Beef with Bushido
What really happened
"I hope your shit club goes bust real soon. Don't buy from Otto any more!!! #bastardclub". So what actually happens behind the scenes at a large company when the Web suddenly goes berserk?
In fact it was a very quiet Wednesday afternoon in summer 2017. Then came Bushido and his credit block. Bushido is one of Germany's most popular "gangsta rappers". He posts a photo of a letter he's received from OTTO on Instagram (a million followers), Twitter (another million) and Facebook (two million followers): "Due to internal regulations we are unable to deliver the goods you have ordered", it reads. Bushido's customer account is suspended.
It only takes a few minutes before the irascible gangsta rapper's posts have garnered a thousand likes, comments and shares. Not a media tsunami in the truest sense – but the eye of the Web turns quickly, popcorn in hand, towards the rapper and his latest victim. A social media emergency.
This is not completely unusual for Bushido. The rapper rails against those companies and institutions quite regularly that have somehow attracted his displeasure. He makes a high media-impact call for a boycott and whips his fans into a frenzy on the respective Facebook pages. Targets of his wrath have included Deutsche Telekom, the Müller drugstore chain and the renowned German Grimme Prize Jury. Airberlin too – several times in fact. Today Airberlin is out of business. Hmmm…
"I hope your shit club goes bust real soon. Don't buy from Otto any more!!! #bastardclub"
The Bushido Crisis Team meets
On this very normal Wednesday I'm the lucky one who picks up the phone. "Umm, it's like this… Bushido has posted something about us", says the Head of the OTTO Customer Centre in Magdeburg, which among other things handles Customer Service for tweets and Facebook posts. Somehow it's impossible not to notice the wry smile in his voice.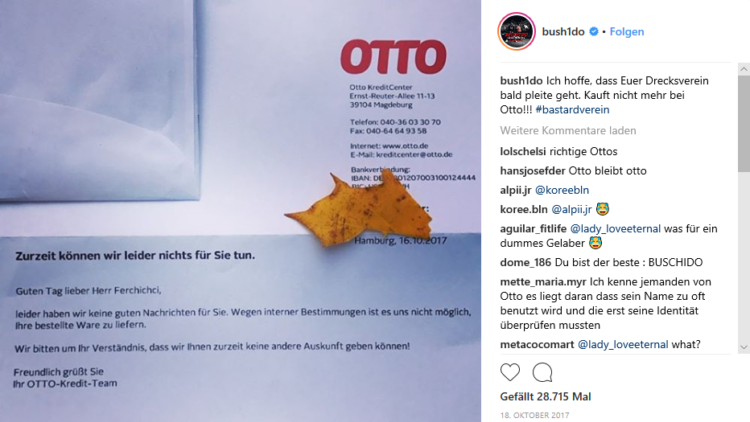 At OTTO, just as at many other companies, there is a standardised social media procedure for cases like this. And so just a few minutes after the post, the 'Bushido Crisis Team' convenes in a slightly offbeat atmosphere. Sitting around an oval table are experts from Customer Service, Social Media, PR, and Credit. The first and most important question goes to the Credit expert: what actually happened?
"The systems triggered an automatic alarm when Bushido ordered and this blocked his account", she reports. "Suspicion of order fraud." Bushido's real name and address are easy to find on the Web. In fact, some months ago a couple of gangstas already used his name to get goods delivered to a different address – and then didn't pay. In the end the company would have been left to foot the bill and the real customer would've had to deal with a lot of irritating questions from the police – if the whole scheme had worked. This is why the security algorithm initially raised a flag when Bushido's real name was used, even though his order was for real.
"Right. And now how do we react to the flaming?", was the next question at the crisis meeting, while the rapper's Insta-post notched up its ten-thousandth like.
There is very probably no single 'right' way to handle an attack like Bushido's. Sure, we could panic and issue a hectic apology – but in fact no-one had done anything wrong. Or we could dig our heels in and 'play the same tune', as Bushido should know as a multiple Echo Award winner, and issue a formal warning (on the other hand, the Echo Awards are a case apart...). Then again, we could seize the mood of the moment and issue a witty response to make fun of the whole situation. But that only works if some on-the-ball social media wizard happens to ping exactly the right reply at the right time, as happened with Dr. Oetker, without prior consultation with five other team members or weighing up their considered opinions. But even if someone does come up with a brilliant riposte, why should we be poking fun at Bushido's problem just because he's Bushido and is practically a professional insulter? After all, we would issue a normal reply to any other customer.
Chat with Bushido
In the grim Situation Room the Crisis Team reaches agreement on a compromise answer – a gentle wink but no ironic, full-frontal attack. Not ducking the issue but making an honest offer, just like we'd make to any other customer. "Clarification of the problem? We'll be happy to – via private messaging."
In under three minutes the posts have stopped and everything goes quiet. Case solved?
That same night my smartphone buzzes. A direct post on Twitter – from Bushido. He writes… well, just as we'd treat messages from anyone else, Bushido also has a right to privacy regarding the contents of his chat. What he wants is a solution to his case, and that's something we can fully understand.
The following morning the first excited mails bounce backwards and forwards across the crisis mail-group and the Bushido Team meets again. After posting with the hashtag #bastardclub we honestly hadn't expected Bushido to want a solution to his order problem – but that's how it is, so we set about formulating an answer: should we start with 'Hi Bushido' or should we address him by his real name? "Nah – Bushido", we agree. "For possible future orders", we propose, we should give Bushido a 'code first name' that helps us establish his identity unequivocally.

Click.
Send.
Done?
And suddenly we see three little rolling 'message in progress' dots – the Aggro-Berlin rapper is sitting somewhere right now and keying in a message. The Crisis Team holds its breath. Will he start insulting us? Will he threaten us? What's he thinking? What does he want…? For almost a full three minutes Twitter displays the 'message in progress' icon. A tense silence descends as we are gripped by the cliffhanger.


Okay, we're not going to spill the beans – but we will tell you this much: Bushido's order problem has now been successfully solved and he has received his order. Just like it should be with any other customer. His post remains unaltered, though, undeleted. Well, of course it does. Bushido's a gangsta.